Crafty+ (Plus V2) Review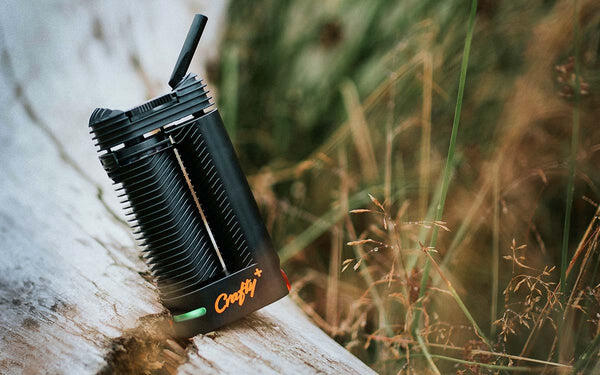 The New Crafty Plus V2 - STORZ & BICKEL
Included Free With The Crafty Plus
Free shipping
Tree Plant Donation
14 Days Free Return
Crafty Plus Features
The Crafty+ has been upgraded with exciting new features. Rather than creating a brand new unit with an entirely different design, Storz & Bickel have listened to customer feedback and made some very useful changes to the classic Crafty (you can check out our blog post on the old Crafty for a full product review).
Enhanced Heat-Up Time
The Crafty+ now heats to 180C/365F in less than 60 seconds, which is twice as fast as the previous model. This new mass reducing heating element included in the design means that you can get your Crafty+ up and running faster than ever.  
Improved One-Button Control
Although the classic Crafty had a similar one-button design with two preset temperatures, the Crafty+ now comes with three options for a more personalized vaping experience. With just three clicks of the button you can enjoy the new Super Boost feature which brings the temperature up to 210C / 410F.
Sleek New Body
The shell of the Crafty has been given something of a facelift with a trendy fin effect in a more durable material. It's not just the exterior that's been upgraded though. Storz & Bickel have also improved the circuit board on the Crafty+ for what they say will be the highest performing Crafty yet.
An Extra Years Warranty
The Crafty came with two years stock warranty as standard, but with the Crafty+ Storz & Bickel have extended this by a third year. However, this extension only applies to customers who register their device with Storz & Bickel.
Our Thoughts On The Crafty+
The update to the flawed, but very popular, Crafty has been long-awaited by the vaping community. Storz & Bickel have kept their cards close to their chest on this one, leaving clues and hints on their social media accounts, but giving very little away about what exactly the update would include. And now that it's here, what do we think?
Overall, the improvements seem to be pretty simple and effective. Storz & Bickel have clearly listened to their customers and taken on board their issues with the original Crafty. What they've created isn't the brand new model but it is certainly a vast improvement. Its perfect for people on the go. It is powerful, user friendly, high performance and it tastes great. For sure, the new and improved Crafty +  bares more resemblance to the popular Mighty Vaporizer now.
Safe to say that Storz & Bickel sure know how to generate excitement and they seem to have hit the mark. By keeping the unit similar to the original  its clear and progrssive yet still provides some very tactical improvements to the performance which is why the overall Crafty PLUS experience is on another level.
Was the upgrade everything we expected? Pretty much. Will it prove to be just as popular as the Crafty? Only time can tell. But one thing is for sure - customers won't wait long before sharing their thoughts on the Crafty+.
Crafty Plus Customers Reviews
---