Linx Vapor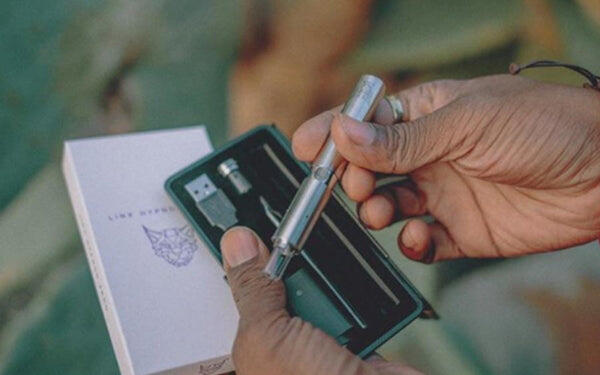 The vaporizer market has been around long enough for certain brands to establish themselves. Storz & Bickel are the go-to for premium vaporizers, DaVinci is a must for anyone who loves great vape flavour, and Linx is without a doubt the last word in concentrate vaping.
Linx produces the very best portable vaporizers for wax, oils and shatter concentrates on the market. Their vaporizers are unified by a distinctive and stylish aesthetic that stands out from the crowd with their attractive burnished metal cases and the stylish Linx wireframe logo.
Based in Los Angeles, USA, Linx is specialists in cramming high-quality and powerful vape tech into discreet and portable packages.
Linx Vaporizers
Linx Vapor was founded by a group of like-minded vaporizer enthusiasts who were unhappy with the quality of the vaporizer industry. Plastic was heavily overused and healthy design seemed to be an afterthought. Their vision was to create a health consciousness, stylish and affordable vaporizer that could deliver fantastic vape experiences. They achieved this and quickly became one of the finest manufacturers of concentrate vapes, and much more out there.
Linx Gaia
While Linx built its reputation on fantastic concentrate vaporizers this hasn't stopped them from turning their hand to best dry herb vapes. At first, this might provoke some concern. Concentrate vaporizers are all about super-powerful heating elements that surge to their maximum temperature super quickly. This goes against the careful balancing and adjustments that are sometimes needed with dry herb.
Fear not, the Gaia is a fantastic vaporizer that uses convection heating to gradually and gently bake the active ingredients out of your dry herb. The vapour the Gaia produces is dense, smooth, and flavourful. Convection heating systems generally take longer to heat up, but thanks to their experience with fast-heating concentrate vapes, Linx has built the Gaia with a super-fast heat-up time of 20 seconds.
The Gaia is designed to let you enjoy smooth and pure vape experiences. Its airpath is totally sealed off from the electronics, this means that there's no risk of the vile plastic taste that can plague some inferior vaporizers. This purity is further enhanced by the quartz construction of the heating chamber. Quartz is a totally non-reactive material that will ensure that your vapour remains untainted.
Who is this for?
The Gaia is the perfect vaporizer for a herb fan looking for a quality, but affordable alternative to the more expensive hybrid vapes. It can deliver fantastic and balanced vape experiences whenever you want, wherever you want.
Linx Eden
The Linx Eden is the last word in discreet vaping. It is a stylish and compact vaporizer that fits perfectly in the palm of your hand.
Its design is simple and easy to use. It features a simple one-button control scheme that anyone can easily intuit after a brief demo. Five quick clicks will activate your vape and three will allow you to cycle through the temperature presets. The Eden features a unique heating system that combines aspects of both convection and conduction. This means you can enjoy a rapid heat-up time of conduction and the dense and smooth vapour of convection.
Just because this vape is small, that doesn't mean that it's fragile. The Eden is a robust little vape thanks to its stainless steel exterior. This gives it a decent heft and feels like a quality product. It also comes packaged with a selection of three glass mouthpieces for smooth, untainted vapour.
Who is this for?
The Linx Eden is a dry herb vape for those who value discretion. It is far more compact than the majority of other dry herb vapes but it doesn't skimp on power.
Its hardy construction means it's more than capable of standing up to daily use, making it perfect for anyone who wants a portable vape that will last.
Linx Hypnos Zero
The Hypnos Zero Wax Vaporizer is a paragon of the company's iconic sleek, stainless steel aesthetic. It is one of the most discreet and dependable extract vaporizers on the market. Its ceramic heating element, this vaporizer will take your wax and concentrate vaping experience to the next level.
The Zero is built entirely from medical grade components. This means that your hits will be free of any metallic or plastic tastes. This is vital for concentrate vaporizers as they operate at extremely high temperatures. This vaporizer features an innovative heating plate that vaporizes concentrate with zero-waste left behind.
The Hypnos Zero has a four temperature heating system that allows you to enjoy a range of vape experiences.
Who is this for?
Short of a fully kitted out dab rig, the Hypnos Zero is the best thing a concentrate fan can buy. Its innovative heating plate ensures that none of your concentrate goes to waste, making it ideal for those who want to ensure they get the very most out of their dabbing material.
Linx Ares
The Linx Ares is a hyper-compact vape pen that offers fantastic flavour and smooth hits. The Ares is designed for use with wax concentrates only and features a perfectly calibrated heating system that ensures smooth vaporisation every time.
This is an incredibly discreet vaporizer. With its compact form and stainless steel casing, you'd be forgiven for mistaking it for a pen when it is fully stowed away. It is incredibly easy to use, simply remove the magnetically locked caps and it's good to go. When you're done, simply replace the caps to protect the glass mouthpiece and heating element.
The Ares couldn't be easier to use. All you need to do is place your wax into a shallow glass container, remove the caps, activate the device, dip the element into the wax, and inhale. The single button system works like any other Linx vaporizer; five rapid presses to activate it and cycle through the temperature settings with three rapid presses.
The Ares heats up nearly instantly, an important feature for a concentrate vaporizer. While the heating element is incredibly powerful, the device never gets hot to the touch. This vape is notable in how it preserves the unique aroma and flavour of your concentrates, a rare feat for concentrate vaporizers.
Who is this for?
This pen is a must for concentrate fans who value discretion and simplicity. The compact size and ease of use of this vape make it ideal for travelling or even if you just want hassle-free sessions around your home.
Linx Hermes 3
The Hermes 3 is a unique vaporizer that is not only compatible with concentrate oil, but also with e-liquids. This makes it a unique hybrid of an e-cigarette and a concentrate pen.
This is the smallest iteration of the Hermes vaporizer to date. Don't worry, none of the features or power has been sacrificed.
It features a fantastic atomizer that is powerful enough to handle any kind of oil, you don't have to worry about an over-viscous oil clogging your vape. Whether you're enjoying oils or e-liquid, the Hermes is guaranteed to help you get the most out of them. The atomizer has carefully placed and large inlets that allow all the contents of the tank to pass directly to the atomizer.
Who is this for?
The Hermes is a unique vape that allows you to enjoy potent concentrates and everyday e-liquids. If you use e-cigarettes and enjoy cannabis but don't want too many gadgets kicking around, then you could do a lot worse than invest in a Hermes 3. 
---