Shatterizer Review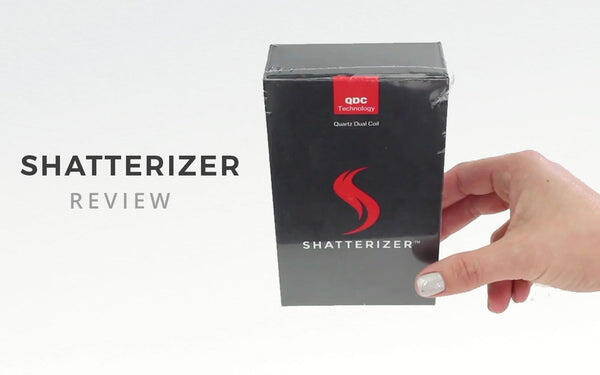 The Shatterizer vaporizer wax pen is a newly improved, high quality vape pen that is a hit among the vaping community in Europe. In this Shatterizer review we'll be going over why it has become so popular and what the Shatterizer concentrate vaporizer has to offer.
Shatterizer Design
Well, the Shatterizer does have a contemporary design and shape. With its glass dome and cool features such as the portable shatter and wax storage container, it definitely boasts a modern and high-tech look.
The Shatterizer vape pens are made from high quality materials, such as the borosilicate glass the dome is made out of, and the magnetic silicone lining of the portable dab container.
The mouthpiece can be sent to you in either silicone or high-quality aluminium. This gives is a smooth texture and a handsome appeal. These materials are also easy to clean off any time.
Battery Life
Complete with a variable voltage lithium ion battery, the Shatterizer vape is way up there with the top selling concentrate pens in terms of temperature control, temperature retention, and batter life durability.
The Shatterizer boasts a 40 hour long battery life after only a couple of hours charging (or until fully charged). Most Shatterizer review comments have pointed out how convenient that is when on an adventure where charging the vaporizer pen isn't an option.
Many users are really happy to report that this vaporizer's battery life gives them around 70 hits of their favourite selection of dry herb types of concentrates. This is actually quite a lot if you compare it to other shatter pens of this price point, and some above it.
Another great aspect to this vape pen is its 3 temperature settings. The temperature range is really good and convenient, and many say that the settings are perfect for different moods.
All you need to do to change the temperature setting is to press the power bar 3 times until you've reached your desired setting. The LED lights behind the power bar turn 3 different colours to let you know which setting you're on.
The temperature setting and the whole vaporizer pen is very intuitive and user friendly. It is really nice to use on any occasion, be it a busy or chill time of day.
Other Features
Apart from its contemporary look, great battery, high quality materials, and really nice features, the Shatterizer operates differently than most dab vape pens.
It features a dual coil for optimal vaping experience. The presence of dual coil technology means that you will get the entire flavour and all the THC content from your wax or shatter. No waste and all the potency.
That said, you also have the option of choosing ceramic coils for a different vaping experience, if you'd like to experiment a bit.
The ceramic coils make the vaping experience different because they heat up differently than the original coils and give you slow but constant heat, making your hits more enjoyable in a more relaxed setting.
The ceramic coils aren't the best for huge hits of vapour, but they will make your casual vaping really nice, and will stretch the shatter or wax you have in the chamber over the course of more hits.
What's great about a wax and shatter vaporizer pen is that you're not only getting much more potent hits, you're also ensured to get really good quality concentrated herb, which in some cases is better than dry herb itself which can contain some toxins.
Checkout: - Best Dry Herb Vaporizers 2022
You're getting la crème de la crème when you're smoking shatter or wax. So when you're dealing with such good quality concentrates, you want to have a good quality vaporizer to ensure you're a high-quality vaping experience.
The Shatterizer a great concentrate vaporizer pen
The Shatterizer is most definitely what you need when you want really good concentrate hits. You'll get the most flavour, the most THC, and the most product vaporization.
It is a well-liked product among the vaporizer owner community, and whether you're a first-timer or a vaping veteran you'll love your experience with the Shatterizer vapour pen more and more each time you use it.
---