Arizer AirSE Review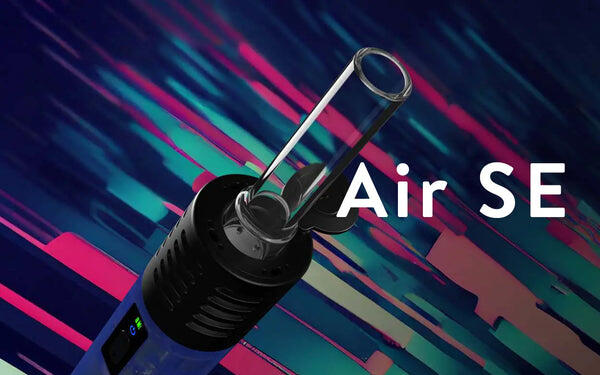 In the world of vaping, the Arizer Air SE Vaporizer emerges as a true game-changer, combining advanced technology with sleek design at an affordable price. In this review, we'll dive into the features that set the Arizer Air SE apart, exploring its performance, vapor quality, ease of use, and more.
Join us as we uncover the exceptional vaping experience this portable vaporizer has to offer.
Key Features of the Arizer Air SE Vaporizer:
Compact Design with Premium Build: The Arizer Air SE boasts a compact and stylish design, crafted with premium materials that exude both durability and elegance. Its portable size makes it the perfect companion for on-the-go vaping enthusiasts. Plus the interchangeable glass stem makes it easy to reload and can be replaced to a water pipe adapter.

Efficient Convection Heating: This vaporizer employs convection heating technology, ensuring that your dry herbs are heated evenly and efficiently by the ceramic heating element. Say goodbye to combustion worries and savor the pure essence of your botanicals. Say hello to rapid heating and great vapor production.

Interchangeable Batteries: The Arizer Air SE goes the extra mile by featuring interchangeable batteries. This feature not only extends your vaping sessions but also offers the convenience of easily swapping out depleted batteries for fully charged ones.

Custom Temperature Settings: With 5x temperature pre-settings, you're in charge of your vaping experience. Choose from a range of temperatures to unlock the full spectrum of flavors and effects from your herbs.

User-Friendly Interface: Navigating the Arizer Air SE is a breeze, thanks to its intuitive interface. A clear OLED display keeps you informed about your chosen temperature and battery life.
Performance and Vapor Quality:
The Arizer Air SE truly shines in the performance department of the heating chamber. Its convection heating ensures that your herbs are gently heated without direct contact, resulting in pure and flavorful vapor. The device heats up quickly, allowing you to indulge in your preferred botanicals within minutes.
Air SE's vapor quality is exceptional, characterized by its smoothness and robust flavor profile. The convection heating prevents any risk of combustion, meaning you can enjoy the natural aromas and therapeutic compounds of your herbs without any unwanted byproducts.
The device has five preset temperature settings to choose from, temperature range from 180°C (356°F) to 210°C (410°F). This makes it easy to find the perfect temperature setting to suit your desired vaping experience.
The Design
The Arizer Air SE is a well-crafted and aesthetically pleasing portable vaporizer. It has the same sleek and modern Air design that fits comfortably in the hand. The body is made of a high-quality stainless steel and premium plastic material that gives it an elegant look and feel. The Air SE also features an ergonomic shape, which helps to make it easier to grip while vaping. Plus we really like the look of the plastic body, it's half transparent color Blue Haze has a tech vibe and the off white feels retro.
The Air SE is also equipped with an Arizer interchangeable glass stem that makes it easy to reload and clean. The stem is made of a high-grade borosilicate glass, which helps to ensure maximum flavor production.
The Arizer Air SE is a unique budget vaporizer with its design and colorful LED light. The LED not only looks great but also serves a few practical purposes. It helps indicate when the device is powering up or has reached its desired preset temperature.
How it Works:
The Arizer Air SE is easy to operate. It has a two-button control system and a removable 18650 battery. The device has a simple design that works well. It's a bit small for our liking, but it's suitable for a budget device.
Here is a detailed guide on how to use the Arizer Air SE for the best performance.
Fully charge your Air SE using the included micro-USB charging cable.
To turn on the Arizer Air SE Vaporizer, press and hold the up and down buttons for a few seconds.
Select your desired temperature setting as indicated by the LED light. A blinking LED light signifies that the heating element has been activated.
After setting it, wait for the device to fully heat up. (LED light will remain steady)
Place your herb in the bottom of the Glass Aroma Tube.
Insert the glass tube into the device once it has reached the necessary temperature, then breathe in. It is also possible to load the herb beforehand, although the flavor is improved when it is loaded while the device is hot.
It should be noted that the density of the vapor may not be as high when the unit indicates it is ready. The readiness indicator light may activate prematurely as Arizer aims for efficiency, but if you wait an additional 30-45 seconds, the vapor will become denser and more enjoyable.
Battery
The Arizer Air SE comes with a replaceable 18650 lithium-ion battery that gives you up to 1.5 hours of continuous use on a full single-charge and fast heat-up time. The battery can be recharged in about two hours using the included mirco-USB charger or an optional wall adapter. The Air SE also features pass-through charging, meaning you can vape while the device is plugged in and charging. Additionally, the battery level is easy to see on the LED screen.
Ease of Use and Maintenance:
One of the standout aspects of the Arizer Air SE Vaporizer is its user-friendliness. Operating the device is as simple as selecting your desired temperature and waiting for the vaporizer to reach that point.
The glass vapor path has a draw resistance is perfect for tasty vapor and is easy to keep clean. Plus, the glass mouthpiece features a travel tube for on the go cover. Swapping out batteries is a hassle-free process, and cleaning the vapor path and components is a breeze, ensuring your vaping sessions remain hassle-free.
Warranty
The Arizer Air SE vaporizer comes with a lifetime warranty on the heating element. Giving you the peace of mind that if anything goes wrong with your stainless steel heating element. Arizer will replace or repair it free of charge. The other parts comes with a 1-year warranty that covers any manufacturing defects or faulty components on the device, so customers can be sure that their purchase is protected.
Get 5% OFF Now with code:
LOVE5
Final Verdict:
The Arizer Air SE Vaporizer sets the bar high for portable dry herb vaporizers. Its combination of efficient convection heating, customizable temperature controls, and removable batteries make it a standout choice for vaping enthusiasts who prioritize convenience and superior vapor quality.
With a design that similar to previous model Arizer Air MAX marries aesthetics with performance, the Arizer Air SE offers an unparalleled vaping experience that's truly a cut above the rest. Embrace vaping excellence with the Arizer Air SE and elevate your herbal enjoyment to new heights.
All in all, the Air SE offers great value for money even if you own a Arizer vape!
---