Arizer Solo 3 Speculation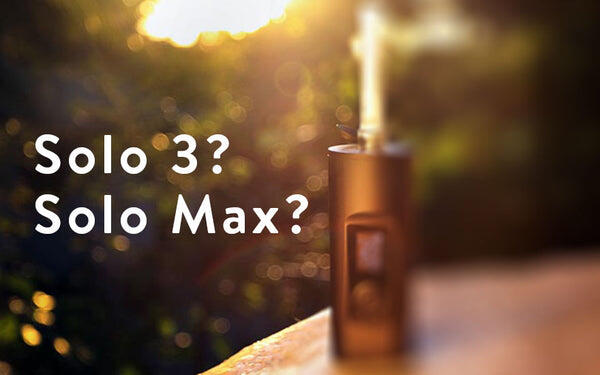 Arizer Solo 3 or Arizer Solo Max News and Rumours
The Arizer Solo 3 or Arizer Solo Max is the long-awaited update to the popular Solo 2 vaporizer. This new version will most likely have number of improvements, including a longer battery life, faster heating, and a more user-friendly interface. The Solo 3 will for sure to be a hit with vaporizer enthusiasts of all levels.


Arizer Solo 3 New Design?
The Arizer Solo 3 will be the next level in portable vaping. We hope to see an upgraded body and design, perhaps the Solo 3 is more ergonomic and slimmed down for a more attractive look. The Solo lineup is known for being a powerhouse unit, and the Solo 3 will not disappoint.
Battery life of the New Arizer Solo 3?
The most noticeable change with the Solo 3 we think is going to be a longer battery life. With the Solo 2, you were lucky to get an hour of use out of a single charge. With the Solo 3, you can expect up to 3 hours of use on a single charge. That's triple the battery life of its predecessor!
Solo 3, improved vapor quality?
The Solo has always been a fan favourite for its simplicity and vapor quality, and the Solo 3 is sure to continue that trend. This time around, Arizer will tweaked the heating element to introduce more convective heat, resulting in even tastier vapor.
Arizer Solo 3 New Features?
The largest innovation on the Solo 3 will be the ability to adjust the conduction:convection ratio, which allows you to replicate the vapor traits of different units – giving you unprecedented control over your vaping experience. We expect it to come with USB-C charging.
Arizer Solo 3 Release Date?
We're excited to see what the new Arizer Solo 3 or Solo Max will have to offer. This vaporizer is slated to be released soon and we think it's going to be a pretty big upgrade from the last model. Arizer is known for their excellent build quality and top-notch vapor quality, so we have high hopes for this new product!
Checkout: - Arizer Air Max Review
---