Crafty Plus vs FireFly 2 Plus | Comparison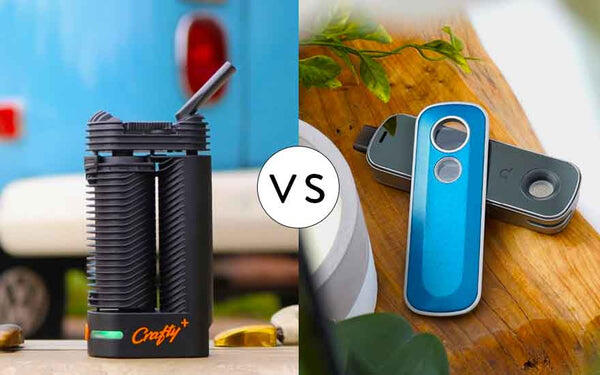 In recent months, there have been two major developments in the world of awesome vapes. The Crafty Plus and the FireFly 2 Plus have both debuted, leaving many older vapes in the dust with their incredible technology and their anticipated improvements.
It's now up to us to put these two stars in a head to head battle to see which one has the best features, the best improvements, and the best overall package.
Here at Herbalize Store, we want you to have the best possible vaping experience, so let's take a look at these two popular vapes and figure out which is best for you.
The Crafty Plus | Storz and Bickel
Near the end of last year (2019), Storz and Bickel released the Crafty Plus vaporizer, and the entire vape community went crazy over the newest version of the iconic Crafty vape! It boasts all the features that the Crafty is known for, but it is complete with all new features and better technology than the original version as well. 
Here at Herbalize Store, we were all excited to see what the new Crafty Plus vaporizer had in store for us, and as soon as we got our hands on it we knew what all the hype was about. With features such as better battery life, better exterior design, and so much more, we were instantly excited to offer it to you guys. 
However, it does come at a higher price than other vapes, so we want to see if more wallet-friendly vapes such as the FireFly 2 Plus vape is a better choice for those looking to save some buck or not. Let's see...
The FireFly 2 Plus | FireFly
The FireFly 2 Plus vaporizer is the new member of the popular FireFly family, and it's recently become one of the public's favourite FireFly vaporizers -- which is very easy to agree to when you compare this new version to the past FireFly vape units.
Of course, they're all pretty great because FireFly knows their way around dry herb vaporizers, but with all the updated tech, it's easy to say the FireFly 2 Plus vape is one of their best!
It comes with the iconic full convection heating system, motion sensor technology for button-free operation, it is also small and compact in design which makes it portable and easy to use anywhere, and its vapor quality is amazing with both dry herb and concentrates -- which some attribute to the vaporizer's full convection heating.
The Basics: Feature Comparison
CRAFTY PLUS

CATEGORY

FIREFLY 2 PLUS

$369.00 CAD

Price

$324.95 CAD

Dry Herb and Concentrates

Compatible With

Dry Herb and Concentrates

Less Than 1 Minute

Heat-up Time

Less Than 10 Seconds

Via Storz and Bickel Mobile App, Includes (manual) Super Boost Mode

Temperature Settings/Manual adjustment?

6 Preset Temperatures

Hybrid
(convection and conduction)

Heating Element

Convection Heating

Yes

App Required?

Yes

Stainless Steel and Ceramic

Oven Material

Ceramic

0.25g

Oven Capacity

0.2g

Hard Plastic

Vapor Path

Borosilicate Glass

Yes

Removable battery?

No

Up to 6 Sessions




(Approx. 1 Hour of Use)

Sessions per charge

Up to 6 Sessions 

(Approx. 1 Hour of Use)

70 Minutes

Charge time

+/- 45 Minutes

8/10

Draw resistance

9/10

(quite a bit of resistance)

9/10

Vapor Smoothness

9/10

9/10

Flavour/taste

10/10

(equally great with dry herb and concentrates)

7/10

Odour Level

8/10

Germany

Country of Origin

USA
Look and Feel
If you've ever seen both vaporizers, you'll know that the Crafty Plus and the FireFly 2 Plus couldn't be more different. They are basically on opposite sides of the 'looks' spectrum in that the Crafty Plus is chunky and all-black, and the FireFly 2 Plus is dainty and colourful. 
The Crafty Plus has the classic Storz and Bickel look to it, and it slightly resembles a small power tool of some sort. It has power and strengths mixed into its design, and it looks just like what it is: an incredibly powerful vaporizer that's meant to be practically life-proof. Many love the Crafty Plus' look, but there are some who prefer a quieter vape.
The FireFly 2 Plus vaporizer, on the other hand, resembles the majority of FireFly's vapes in that it's small and discreet, and it has small touches in its design that scream 'elegant!'.
Though small, it's still apparent that the FireFly 2 Plus can pack a good punch, and we love that it has a traditional pipe kind of look. It's definitely much quieter than the Crafty Plus vape, but it might be simply too dainty for some. 
In terms of look and feel, it's a bit hard to find a 'winner' because they're simply so different. Therefore, we're leaving it up to you to decide which vape is the best in this category because it's more up to everyone's personal tastes.
Heating Method
The FireFly 2 Plus is well known for its incredibly powerful full convection heating. This type of heating method is considered the best when a vaporizer is compatible with both dry herbs and concentrates because it's said that convection heating offers the best-tasting vapor for dry herb and the best all-around heating for concentrates. 
The Crafty Plus vaporizer has taken things to the next level and has debuted with hybrid heating technology. This type of heating system combines convection and conduction heating, offering hot air and direct contact heating for the best results every time.
People are loving the concept of hybrid heating, and it's quite frankly the best way to go when it comes to such a powerful vape. Although it's said to produce vapor that's a bit too hot sometimes. 
Temperature Range and Control
The FireFly 2 Plus vaporizer has a temperature range of  284°F - 428°F (140°C - 220°C), which is not as flexible as most vaporizers but still works perfectly with dry herb and concentrates. The FireFly 2 Plus vape has 6 preset temperatures to choose from, and these can be altered using the FireFly mobile app.
The Crafty Plus vape has a temperature range of 104°F - 410°F (40°C - 210°C), which is a pretty nice temperature range compared to that of the FireFly 2 Plus. It can be adjusted in single degree increments directly from the vaporizer or the Storz and Bickel mobile app. We love a good temperature range and the Crafty Plus definitely meets all our criteria in this category.
Vapor Quality and Taste
The vapor quality of the Crafty Plus vaporizer is revered throughout the vaping community thanks to its smoothness and potency, and it's a great example of just how amazing Storz and Bickel's attention to detail really is.
When you vape both dry herbs and concentrate, you'll find that the vapor is smooth and cool enough, but can be a little harsh towards the end of a dry herb session.
However, the FireFly 2 Plus vaporizer is easily FireFly's best vaporizer in terms of vapor quality and taste. The vapor clouds are perfectly satisfying, and the taste is super nice when using both dry herb and concentrates.
The FireFly 2 Plus' vapor is smooth and is easy to keep under the 'too hot' temperature level. The clouds can be a little smaller than expected when you use concentrates, but they're still ultra tasty!
Crafty Plus vs FireFly 2 Plus: Pros and Cons
Pros ✔︎

| | |
| --- | --- |
| CRAFTY PLUS | FIREFLY 2 PLUS |
| ✔︎ Hybrid Heating Technology | ✔︎ Full Convection Heating |
| ✔︎ Powerful Battery and Long Battery Life | ✔︎ Amazing Vapor Quality with Dry Herb and Concentrates |
| ✔︎ Portable and Concealable | ✔︎ Small and Compact |
| ✔︎ Smooth Vapor  | ✔︎ Short Charging Time |
Cons ✘
| | |
| --- | --- |
| CRAFTY PLUS | FIREFLY 2 PLUS |
| ✘ A Bit Bulky | ✘ Smaller Chamber |
| ✘ Heavier than Many Portable Vapes | ✘ No webapp for apple users |
| ✘ All-Plastic Exterior isn't Everyone's First Choice | ✘ Restrictive Draw |
| ✘ Long Charging Time | ✘ Shorter Battery Life |
Which is Better For Whom?
If you would like a vaporizer that's sure to last you a lifetime, that really packs a punch, and that will give you incredible vapor every single time you vape from it, you'll love the Crafty Plus vaporizer without a doubt! It's powerful, it's durable, it's reliable, and it will never let you down. 
If you want a vaporizer that offers incredibly tasty vapor, that; discreet and concealable, and that can go with you anywhere anytime, you'll love the FireFly 2 Plus! It offers a versatile experience with its preset temperatures, it vapes beautifully every time, and it's simply amazing.
---
---