Fierce vs Crafty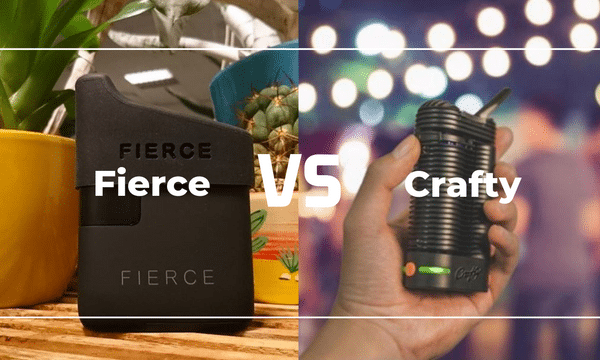 Overview
The Fierce vaporizer and the Crafty vaporizer are both very popular vape units in our community, and so many vapers have been wondering which is the best out of the two, and have been requesting to see a head-to-head comparison between the two. 
In this vaporizer comparison, you will be able to see what each vaporizer unit has to offer, what makes each of them unique, and you'll get a better look at which suits you best.
Look and Feel
Fierce Vaporizer
This vaporizer is best known for its small build and small features. It is square in shape, except for the very smoothly designed mouthpiece which pops up out of the top, and is very smooth and streamline all around
It is made with high-quality materials such as stainless steel and glass, which shows you that Healthy Rips had durability on their priority list when they designed the Fierce vaporizer. In addition to this, it has a very smooth exterior finish, allowing you to easily and comfortably grip it during your sessions. 
Crafty Vaporizer
The Crafty vaporizer by Storz and Bickel can easily be recognized thanks to its unique exterior design, which is quite similar to that of its older brother, the Mighty vaporizer. Many describe it as resembling a power tool or a 'rough use' style object.
Many people love the design of the Crafty because it's easy to hold, it's very resistant to falls, and thanks to the hard-plastic exterior, will last a super long time. But others feel like it could use a bit more of a 'dainty' look.
Check Out This Related Article:
---
Battery Life and Charging Style
Fierce Vaporizer
The Fierce vaporizer boasts a surprisingly powerful battery despite its size. The battery life lasts up to 2 hours (120 minutes), which gives you plenty of time for your sessions throughout the day.
This vaporizer's battery is removable, which sets it apart from the other Healthy Rips vaporizers. So to charge the Fierce, all you need to do is remove the battery (an easy task), set it in the charging port, and wait until it's fully charged.
A perk of the removable battery is that you can purchase a second battery, and use one while charging the other for continuous vaping all day long…. Incredibly easy, and super convenient!
Crafty Vaporizer
On the other hand, the Crafty vaporizer is known for its powerful battery, which produces huge clouds for a continuous 50 minutes on average. Yes, it's around half of the battery life of the Fierce, but this battery is arguably much more powerful. So it's up to you which is best.
In order to charge the Crafty, all you need to do is plug it into the USB A/C charger you are supplied with when you purchase the unit. You need to wait around 120 minutes for the battery to go from 0% - 100% charge, so you should allow enough time before you take it out and about to avoid running out of charge.
---
Vapor Quality and Production
Fierce Vaporizer
The Fierce vaporizer unit can be used with both dry herb and wax, giving the user the option of using whichever they would like. The Fierce works super well with both, but some claim that using it with dry herb is the best because it will produce bigger clouds. 
When it comes to vapor quality, the Fierce really delivers that high-quality taste and temperature, and thanks to its temperature controls, you can tailor-make each session to best fit your mood.
In short, the Fierce vaporizer is small, but it certainly packs a punch, which is all that matters in the end.
Crafty Vaporizer
In terms of vapor quality, Storz and Bickel always excels and delivers the best of the best, and the Crafty is a great representation of this. The taste of the vapor from this vaporizer is exquisite, and it remains the same whether you vape dry herb or concentrate oils, which is a major plus. 
The vapor clouds are another feature that makes the Crafty a must-try vaporizer. Even though it is a bit smaller than the Mighty vape, it produces the same size clouds, and the same amazing taste. So if vapor quality and production is something you value, you'll love the Crafty.
Check Out This Related Article:
---
Portability and Discreetness
Fierce Vaporizer
The Fierce is one of the smallest vapes available, and that makes it super easy to take with you anywhere and everywhere. In addition to its small size, it's also quite lightweight - another feature that makes this the perfect companion on your adventures.
Also, thanks to its inconspicuous shape and size, you can get a vape session in practically anywhere without worrying about standing out too much or drawing too much attention to the vape or your vape sessions.
Pro tip: Vape on lower temperatures to make smaller but denser clouds.
Crafty Vaporizer
The Crafty, however, does draw a bit more attention to itself than the Fierce -- not because of its size, necessarily, but because of its design. It's simply not something you usually see, and can therefore stand out a little bit. But since it is smaller, it can easily be put away and concealed without problems.
This vaporizer is great to take with you on any adventures because it's portable and lightweight and can be put in practically any pocket or pouch with ease. I will say that the mouthpiece is a little awkward to manoeuvre around sometimes, but that's not a big problem in the long run.
---
Unique Features
Fierce Vaporizer
This vaporizer has a lot of really nice features. Some of them include:
Vibration notifications: The Fierce has a vibrating feature that alarms you of a number of things, such as low battery and when it has reached the desired temperature.
Magnetic mouthpiece: The mouthpiece on this vaporizer has a magnetic connection system, making easy to take on and put on, and it also keeps the piece in place so that you never have to deal with dropping your mouthpiece again.
Protective 'smell' cover: In case you're worried about the smell of the vaporizer, or simply want to protect the vaporizer from any debris getting into the chamber, you can just put on the protective cover, and you're set. 
Full temperature setting range: The Fierce is complete with fully customizable temperature settings, and you can choose any temperature from 220 to 430 degrees Celsius.
Crafty Vaporizer
The Crafty also has its own unique features, and some of them include:
Convection and conduction heating: The Crafty goes all the way, and offers you a convection and conduction heating duo, which gives you dynamic sessions, and creates smooth and dense clouds.
Auto Shutoff: To save battery, this vaporizer has an auto shut off setting which turns the vaporizer off after 1 minute of inactivity. This makes your battery last longer and keeps the unit from activating in your pocket or pouch.
Chamber Tool: The Crafty comes with a small removable tool at the bottom of the unit which allows you to stir and move the product around for better heating, and to make sure nothing goes to waste.
Bluetooth - app connection: Storz and Bickel developed an app which you can use with the Crafty vaporizer which allows you to control the vaporizer's temperature settings, and to use heating 'paths', all from the comfort of your phone. 
---
Conclusion
We simply can't choose a favourite, so it's up to you to find which one best suits your preferences and needs. When you find your favourite one, please let us know! We love hearing the feedback and your experiences with our vaporizers!
---
---