How to Clean Your Pax Plus Vaporizer?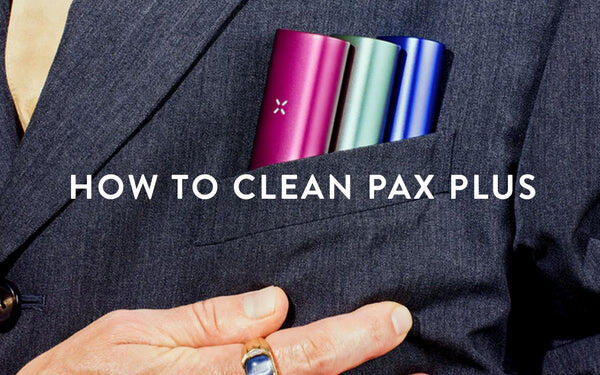 Keeping your Pax Plus vaporizer clean is essential for maintaining its performance, longevity, and ensuring a consistently enjoyable vaping experience. Regular cleaning not only helps remove residue and buildup but also prevents any potential issues that may arise from neglecting proper maintenance. In this comprehensive guide, we will walk you through the step-by-step process of cleaning your Pax Plus, ensuring it remains in top condition.
Why Clean Your Pax Plus?
Over time, residue from dried herbs or concentrates can accumulate inside your Pax Plus, affecting its performance and flavor. Regular cleaning helps remove this buildup, ensuring a smooth and flavorful vapor production. It also prevents any potential blockages in the vapor path and keeps the heating chamber free from debris, which can affect the device's efficiency. Additionally, a clean Pax Plus is less likely to develop any unpleasant odors, ensuring a pleasant vaping experience.
Cleaning Supplies:
Before you begin cleaning your Pax Plus, gather the following supplies:
Isopropyl alcohol (at least 90% concentration)
Cotton swabs or pipe cleaners
Paper towels or lint-free cloth
Cleaning brush (optional)
A small dish or container for soaking parts
Access to running water
Step-by-Step Cleaning Process:
Disassemble the Pax Plus: Start by removing the mouthpiece and oven lid. Take out the oven screen carefully using a tool or the cleaning brush if included with your Pax Plus. Set aside the parts for individual cleaning.

Soak the Mouthpiece and Oven Screen: Fill a small dish or container with isopropyl alcohol. Place the mouthpiece and oven screen in the container, ensuring they are fully submerged. Let them soak for about 15-20 minutes to loosen any residue.

Clean the Oven Chamber: Dip a cotton swab or pipe cleaner into the isopropyl alcohol and gently clean the inside of the oven chamber. Be careful not to apply excessive force or get any liquid into the device itself. Remove any residue or buildup from the walls of the chamber.

Clean the Mouthpiece: After soaking, remove the mouthpiece from the alcohol and use a cotton swab or pipe cleaner to clean the inside and outside surfaces. Pay attention to the vapor path and any areas where residue may accumulate. Rinse the mouthpiece with water to remove any remaining alcohol.

Clean the Oven Screen: Use a cotton swab or brush to gently clean the oven screen. Make sure to remove any particles or debris stuck on the screen. Rinse the screen with water to remove any alcohol residue.

Dry and Reassemble: After cleaning, place the parts on a paper towel or lint-free cloth and allow them to air dry completely. Ensure that all parts are dry before reassembling the Pax Plus.

Clean the Exterior: Use a damp cloth or paper towel to wipe the exterior of the Pax Plus, removing any dust or residue. Make sure to dry it thoroughly afterward.

Perform a Burn-off: With the mouthpiece and oven screen reattached, turn on your Pax Plus and set it to the highest temperature setting. Let it run through a full heating cycle, allowing any remaining alcohol or moisture to evaporate. This burn-off process helps ensure a clean and fresh vapor.

Regular Maintenance: To maintain your Pax Plus in optimal condition, it is recommended to clean it after every few sessions or when you notice a decrease in performance. Regular cleaning prevents excessive residue buildup and ensures a consistently enjoyable vaping experience.
Additional Tips:
Avoid using excessive force or harsh chemicals during the cleaning process, as this can damage the delicate components of the Pax Plus.
Be cautious when handling the oven screen to prevent bending or damaging it. If the screen becomes damaged, it is recommended to replace it with a new one.
Always ensure that all parts are completely dry before reassembling and using your Pax Plus. Moisture can affect the device's performance and potentially cause damage.
Store your Pax Plus in a clean and dry environment when not in use to prevent dust or debris from accumulating on its surface.
Check Out - Pax Plus Vaporizer Review
Conclusion:
Regularly cleaning your Pax Plus is crucial for maintaining its performance, flavor, and longevity. By following the step-by-step cleaning process outlined above, you can keep your vaporizer in optimal condition and enjoy a consistently smooth and flavorful vaping experience. Remember to clean the mouthpiece, oven chamber, and oven screen regularly, and perform a burn-off to ensure any remaining residue or moisture is removed. With proper maintenance, your Pax Plus will continue to deliver satisfying vapor and provide an enjoyable vaping experience for a long time to come.
---