Pax Plus vs Mighty Plus: An In-depth Comparison of Premium Portable Vaporizers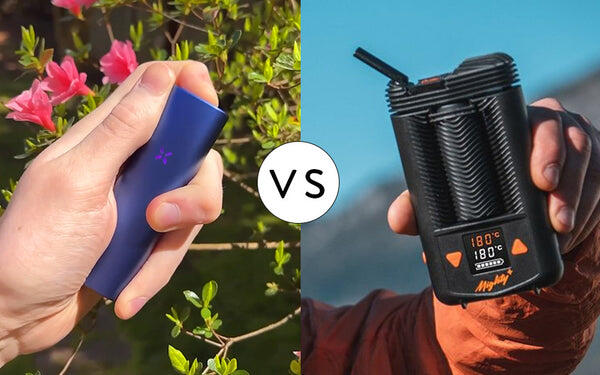 The vaporizer market has witnessed rapid growth in recent years, with an array of options available to consumers. Among the popular choices are the Mighty Plus and Pax Plus vaporizers. These two devices have gained substantial recognition for their advanced features, performance, and user-friendly design. In this comprehensive comparison article, we will delve into the similarities, differences, and unique selling points of the Mighty Plus and Pax Plus vaporizers. By exploring their key attributes, functionality, and user experiences, we aim to provide you with a comprehensive analysis to help you make an informed decision.
Overview of the Mighty Plus Vaporizer:
The Mighty Plus vaporizer is a flagship product by Storz & Bickel, renowned for their exceptional quality vaporizers. It is an upgraded version of the popular Mighty vaporizer, featuring enhanced performance and additional features. The device boasts a sturdy construction, with a combination of plastic and metal components, ensuring durability and longevity.
Overview of the Pax Plus Vaporizer:
The Pax Plus vaporizer is a sleek and compact device manufactured by Pax Labs. It is the successor to the highly regarded Pax 3 vaporizer, offering improvements in terms of functionality and user experience. The Pax Plus features a polished and minimalist design, with an emphasis on portability and discreetness.
Design and Portability:
When it comes to design and portability, both the Mighty Plus and Pax Plus vaporizers offer distinct advantages. The Mighty Plus has a bulkier design, which may compromise its portability compared to the Pax Plus. However, the Mighty Plus compensates for its larger size with a comfortable grip and a robust build quality. On the other hand, the Pax Plus excels in terms of compactness and discretion, making it more suitable for on-the-go use.
Heating Technology and Temperature Control:
Both the Mighty Plus and Pax Plus vaporizers utilize advanced heating technology to ensure efficient vaporization. The Mighty Plus employs a hybrid heating system that combines convection and conduction, resulting in even and thorough vaporization. It also provides precise temperature control through its digital display, allowing users to customize their vaping experience.
The Pax Plus, on the other hand, utilizes a conduction heating system that rapidly heats the herb chamber, ensuring quick sessions. It features four preset temperature settings accessible through an LED interface, providing users with limited temperature control options.
Vapor Quality and Efficiency:
When it comes to vapor quality and efficiency, the Mighty Plus outshines the Pax Plus. The hybrid heating system of the Mighty Plus produces dense and flavorful vapor, preserving the herb's terpenes and cannabinoids effectively. The device's large herb chamber and efficient airflow contribute to a satisfying vaping experience.
While the Pax Plus also delivers decent vapor quality, it may fall slightly behind the Mighty Plus due to its conduction heating. However, the Pax Plus compensates with its fast heat-up time, allowing for quick and convenient sessions.
Battery Life and Charging:
Battery life is a crucial aspect to consider when selecting a vaporizer, especially for those who frequently vape on the go. The Mighty Plus features a robust internal battery that offers an impressive battery life, lasting multiple sessions before requiring a recharge. Additionally, it supports pass-through charging, enabling users to use the device while it charges.
The Pax Plus, although smaller in size, offers a respectable battery life considering its compact design. It provides around five to eight sessions on a single charge, depending on the temperature setting and usage. The device also supports USB-C charging, ensuring faster recharge times.
User Interface and Controls:
Both vaporizers have user-friendly interfaces and controls, but with some differences. The Mighty Plus utilizes a bright and informative OLED display, allowing users to monitor temperature settings, battery life, and other relevant information. It features simple button controls that are intuitive and easy to navigate.
The Pax Plus adopts a more minimalist approach, with a single button interface and LED indicators. While the simplicity of the Pax Plus may appeal to some users, it lacks the detailed information provided by the Mighty Plus.
Cleaning and Maintenance:
Proper cleaning and maintenance are essential to ensure the longevity and optimal performance of any vaporizer. The Mighty Plus features a relatively straightforward cleaning process, with removable components that can be soaked or wiped with isopropyl alcohol. The device requires occasional deep cleaning to maintain vapor quality.
The Pax Plus, with its compact design, may present some challenges during the cleaning process. However, it comes with a cleaning kit and includes a magnetic oven lid that simplifies maintenance. Regular cleaning and maintenance are necessary to prevent residue buildup in both devices.
Accessories and Additional Features:
Both the Mighty Plus and Pax Plus vaporizers come with essential accessories to enhance the user experience. The Mighty Plus offers a wide range of accessories, including a filling aid, cleaning brush, concentrate pads, and more. It also supports the use of dosing capsules, allowing for pre-packaged sessions.
The Pax Plus includes a maintenance kit, charging cable, and a multi-tool for packing and emptying the herb chamber. It lacks the extensive accessory options provided by the Mighty Plus but covers the essential needs of most users.
Price and Value for Money:
Price is a significant factor for many consumers when choosing a vaporizer. The Mighty Plus is generally priced higher than the Pax Plus, reflecting its superior performance and features. While it may seem expensive, the Mighty Plus offers excellent value for money due to its exceptional vapor quality, durability, and long-term reliability.
The Pax Plus, on the other hand, provides a more affordable option without compromising on quality. It caters to users who prioritize portability and discreetness while still delivering a satisfying vaping experience.
User Feedback and Experience:
To gauge the user experience, feedback and reviews from actual users are crucial. The Mighty Plus has garnered widespread praise for its exceptional vapor quality, robust construction, and ease of use. Users appreciate its versatility, precise temperature control, and longevity.
The Pax Plus has also received positive reviews, with users commending its compactness, quick heat-up time, and discreet design. However, some users have expressed concerns about its relatively limited temperature options and smaller herb chamber.
Conclusion:
Both the Mighty Plus and Pax Plus vaporizers have their own set of strengths and appeal to different types of users. The Mighty Plus excels in terms of vapor quality, battery life, and overall performance, making it an excellent choice for those seeking top-tier vaporization. It is well-suited for both home use and portable sessions, despite its slightly larger size.
The Pax Plus offers a more compact and discreet option, ideal for users who prioritize portability and discretion. While it may not match the Mighty Plus in terms of vapor quality, it delivers a satisfying experience with its quick heat-up time and sleek design.
Ultimately, the choice between the Mighty Plus and Pax Plus vaporizers depends on your specific needs, preferences, and budget. Consider factors such as vapor quality, portability, battery life, and additional features to make an informed decision that aligns with your vaping requirements.
---