Puffco Cupsy Review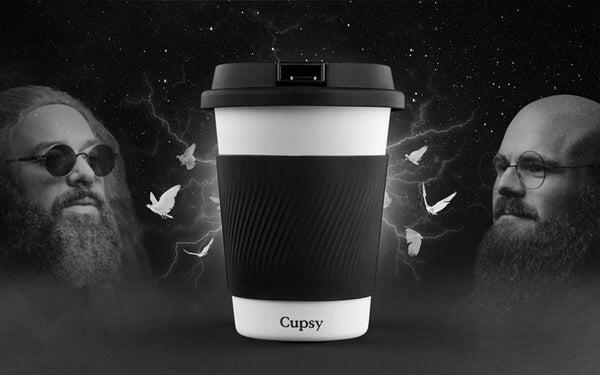 Puffco Cupsy Review - The Coffee Cup Water Pipe
Who says you can't have your cake and smoke it too? With the Puffco Cupsy, you can enjoy a delicious cup of joe while indulging in your favourite herb. Similar to the Budsy water-bottle pipe, this product pairs an ordinary coffee cup with a powerful water pipe system, allowing you to enjoy the best of both worlds.

The ceramic bowl provides superb flavour while the hidden herb storage compartment ensures that your Sessions are discreet and never compromised. Whether you're on-the-go or simply enjoying a quiet moment at home, the Cupsy is the perfect way to relax and unwind. So go ahead and take a break - you deserve it!
Puffco Cupsy Features
No electric parts
Dry Herb Only
All-in-one design
Silicon Lid
Stainless Steel Cup
Easy to Clean
Ceramic bowl
Hidden bowl storage
Gamit Pulsar calibrated
BPA-free plastic
State-of-the-art remulators
Cupsy Design
This new revolutionary design from Puffco pairs an unassuming everyday object with a high performance cannabis bubbler system, making it the perfect pipe for on-the-go smokers. The ceramic bowl for flower keeps the taste pure and stows away inside a hidden storage compartment when not in use, making the Cupsy both portable and discreet. The Cupsy cup is made of stainless steel that makes sure your coffee stays hot for as long as possible.
Cupsy Vapour Quality
There's nothing quite like Cupsy. This premium pipe packs a serious punch, delivering big clouds of vapor. Thanks to its spill free design, getting your herbs wet is not an issue. Similar to a pipe you get a few hits from the Cupsy before its is time to refill or have some more coffee.
What material can you use with the Cupsy?

The Cupsy coffee cup bong is for dry herbs only and let us not forget, it can be used for coffee and tea as well!
How to use the Cupsy?
The Puffco Cupsy is the world's first self-contained, single serve coffee percolator. When you're ready for a "coffee break," simply remove the lid, add water to the cup and replace the lid. Its built-in percolator requires minimal water. Flip open the mouthpiece and use the silicone tether to remove the bowl from storage and place it in the opening. Once you've packed it with your favourite flower, spark it up and rip it good. The Puffco Cupsy is perfect for on-the-go smokers who don't want to deal with the hassle of carrying a bulky bong or pipe. Its discrete size makes it easy!
How to clean the Cupsy pipe?
Cleaning depends on your consumption and usage, but I've found cleaning it after use has kept my device in top condition. This is the method I use:
Disassemble. Remove the top lid and disassemble the parts.
Soak. Soak these parts in isopropyl alcohol, cleaning them from particulate.
Dry / Rinse and Assemble. Wipe everything off and reassemble, ready to use.
Cupsy Pros and Cons
The Cupsy pipe is unique, however let us look at the pros and cons:
Pros ✅

Perfect Coffee cup design
Stealthy herbal consumption
Leak-resistant
Heat rubber around cup
BPA-free plastic
Dense, clean and flavourful vapour
Good price point
Cons 🚫
Only available in 1 colour
No solution for concentrate vaping.
Get 5% OFF Now with code:
LOVE5
Final Words
What's the best way to enjoy your favourite herb? In a Puffco Cupsy, of course! So next time you're out and about, don't forget to take your Cupsy with you!
---