Mighty Plus Review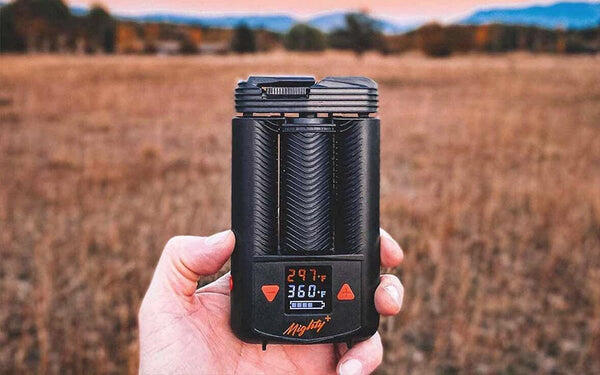 Mighty Plus Introduction
Storz & Bickel are back again with an upgraded version of their flagship Mighty vape with the Mighty Plus. A reputation hard to beat, the Mighty was hailed as the king of portable  dry herb vaporizers, leading the rankings in reviews by almost everyone who used it. The OG Mighty was my first-ever vaporizer experience and I was super impressed with the amount of vapor it produced.
And somehow, Storz and Bickel have made improvements on the previous model, producing a device a cut above the previous Mighty with the Mighty Plus. The highest bar in portable vaping just got set even higher.
This review is from my experience of the 2022 version of Storz and Bickel's The Mighty Plus Vaporizer, and I will share everything I love (and don't love!) about The Mighty+.
Why Did I Purchase The Mighty Plus?
Knowing that each vape brand and their models have certain strengths and weaknesses for different situations and vaping needs, and having experience with the following vapes:
I understood what I was looking for in a vape based on my vaping habits and day-to-day usage.
What do I need from a vape?
I vape a lot. When I'm relaxing at home watching a film or hanging out in the garden. I also have friends who vape who come over to hang out and join me.
I also tend to go to their places and join them, which is why I wanted something that could keep up with me and be portable enough to carry on a day-to-day basis. Something that is durable, consistent and won't have to be replaced within a year - and doesn't have any glass components, as I've had a few breakages with glass before.
I also enjoy concentrates and since Mighty+ is not only a dry herb vape, it's a perfect fit for my vaping needs. 
Furthermore, I needed a device with a large battery so I wouldn't have to keep charging every other session; that was ready to go at a moment's notice and would allow me to use as much or as little material as I wanted. This meant it had to be a convection or hybrid vape, as I wanted the flexibility which just isn't found in conduction vapes. Naturally, this eliminated vapes such as the PAX 3 or DaVinci IQC.
Why The Mighty Plus Suited Me?
I'm constantly on the go, taking trains multiple times a week for work, visiting friends' houses on the weekends and evenings and taking hikes every other week as well as camping frequently. I love sharing my vape with friends when relaxing at home or out in the woods on a trail or round a campfire.
This is the main reason I don't own a large desktop vaporizer such as the Volcano Hybrid, as I'm often away from a wall plug. This also means I tend to avoid the smaller and ultra portable vapes such as the DaVinci Miqro-C or Arizer ArGo, as they simply wouldn't be able to keep up with my vaping demand due to being smaller in both size and battery life.
Therefore, medium-large vapes tend to tick more boxes for portability, battery life and sheer quality of life features I just want in a vape. This had me looking at vapes like the Arizer Solo 2 and the Boundless CFX, however, I didn't want any glass parts as mentioned above as I've had mouth tubes break on me when packed away in my hiking bag.
Owning a Mighty, and looking for an update to my collection, the no-brainer go-to was the new Mighty Plus as I've had nothing but good experiences from Storz and Bickel.
Initial Impressions
I purchased my Mighty+ Vaporizer from Herbalize Store using the discount code MIGHTY for 5% off as soon as it was released, nabbing it for a very fair release price deal. It arrived quickly and in a discreet, unmarked package.
Unboxing Experience
The Mighty Plus keeps within the same function-over-style boxes we've come to expect from Storz and Bickel. The box is clean, tidy, simple and definitely appropriately within the theme of pure efficiency the Mighty+ screams. The box does its job and does it well, and overall I would give the packaging a B+ as it's virtually the same as the previous Mighty.
What comes in the Mighty Plus box?
As you'd expect from Storz and Bickel, they still continue to pack their products with more bits and pieces than most other brands. Storz and Bickel ensure you're able to keep your product in tip-top shape - giving you everything you need to maintain your vape in tip-top shape.
In the box:
1x Mighty+ Vaporizer
1x USB-C Cable (Type C to Type A)
3x Normal Screens (Small)
3x Coarse Screens (Small)
3x Base Seal Rings (Small)
2x Concentrate Pads
1x Dosing Capsule
1x Cleaning Brush
1x Manual
Just like the previous Mighty, S&B make sure the Mighty Plus comes with everything you need to keep your Mighty+ giving you one of the best vaping experiences the market has to offer.
Additionally, all the spare parts which come in the box are readily available online alongside a wide range of Mighty Vaporizer accessories. So you can have peace of mind that even if the resilient Mighty+ has a hiccup such as a broken seal, you can replace it for cheap and not have to buy an entirely new vape.
If you're looking for a spare grinder, however, there isn't one to be found — unlike the original Mighty.
What is it like to vape?
Just like its predecessor, the Mighty+ holds up to the quality I expect from Storz and Bickel.
It has the low draw resistance from the mighty and the cooling unit does an incredible job of making sure you can take longer draws than nearly any other vape without coughing.
The amount of vapour you can get out of the Mighty Plus holds up to being one of the best vaping experiences I have had to date. I would be hard-pressed not to compare this vape to some desktop vapes like the Volcano.
Design
We know by now that Storz and Bickel don't make flashy vapes that look the part with none of the function.
The Mighty Plus is fully true to the saying "Function over Form" - it is meant to be a vape which can perform, is durable and has power behind it which can last for years of day-to-day use. This also means Storz and Bickel stuck with their industrial look for the Mighty Plus, keeping within the same style as the original Mighty.
That said, they did include a few aesthetic changes - such as the logo and buttons now being orange, the locking chamber at the top features a "Storz and Bickel" logo now instead of the "Mighty" logo, and the grippy fins on the Mighty+ give it a sleeker look, with the lines flowing and following the curves of the round chamber. At the bottom of the device you find an orange packing tool that can be removed and used for stirring. 
Temperature Modes & Cloud Size
The Storz and Bickel Mighty Plus sticks to simplicity. And simplicity means reliability and ease of use. The controls from the original Mighty have been kept, which I am happy about. Simply press the up arrow to increase the temperature by 1 degree intervals, or vice versa for decreasing the temperature.
Temperature range: 40°C to 210°C
Compatible with:  Dry herbs and concentrates
If you need a little kick to your session, the Mighty Plus has a Super Booster Mode, which increases the temperature by 15 degrees Celsius after clicking on the power button 3 times in quick succession. This nice feature allows you to squeeze that extra goodness out of your contents.
As with the original Mighty, the Mighty Plus gives huge hits and massive clouds you only get from Storz and Bickel, especially after toying around with the temperature settings to get the most out of your dry herbs or concentrates.
Superior Technology
The Mighty Plus has a Hybrid Heating System which combines conduction heating and convection heating. This gives you the best of both worlds - the quick heat-up time of conduc tion and the efficient vaporization of convection.
Heat-up Time: 60 seconds
It also features a ceramic chamber, an actual temperature digital display (not presets), and a faster heat-up time than its predecessor. All these additional features make this one of the most advanced vaporizers available.
The cooling unit mouthpiece typically consists of a chamber or vapor path that allows the vapor to travel through. Inside this chamber, there might be a series of ridges, fins, or other structures that increase the surface area available for heat dissipation. This additional surface area helps to cool down the vapor as it passes through the mouthpiece.
The Mighty Plus is a great choice for those looking for an efficient and versatile vaporizer with a modern design and large LED display. Its hybrid heating system not only delivers superior vapor quality, but also ensures that each draw is consistent and enjoyable. With its precise temperature contro the Mighty Plus can be used to vape dry herbs at any temperature preference, making it perfect for first time users.
Battery Life
When it comes to battery life, the Mighty Plus does not disappoint. With its dual lithium-ion batteries powering up the device, I was able to get an impressive 1.5 hours of battery life per charge. Even better is that you can fully charge the Mighty Plus in just 1 hour charge time, so you don't have to wait too long for a full charge. That said, if you do need to charge your device more often then you can do so using a USB-C cable.
Handpicked Related Content:
No App connectivity - and why I like it?
I don't think every device, product or gadget needs to be "smart". Although there are some very nice features in some "smart" vapes such as precision temperature control and temperature modes, I firmly believe that those features should simply be built into a reliable, does-what-it-says device like the Mighty Plus's Super Booster mode.
Not only will your battery life last longer with a vape like the Mighty Plus, which intentionally doesn't use smartphone connectivity, it also means if you ever just want to just switch off for a while and enjoy a session you can.
What's it like in daily use?
The New Features:
With the supercharger, the Mighty+ it is one of, if not, the fastest charging vaporizer of this size and power I have used to date. Within 30 minutes the vape was at 75%.
With the pass-through charging feature due to the USB-C charger, I never had to wait to use the Mighty Plus. Although, with how fast this thing charges with the supercharger, and how universal USB-C cables are now, you will barely have to use this feature.
The battery life is similar to the original with about 8 full sessions on full charge, however, now that the heat-up time is twice as quick and the charging is so fast, it feels as if this thing never dies.
The display is slightly brighter, making it easier to use in daylight, but this could also be because the Mighty I am comparing the Mighty Plus to has been around for a while and the screen could have faded. Although I do remember struggling to see the original Mighty's screen in direct sunlight, whereas that hasn't been an issue with the Mighty Plus.
The Same Greatness as before:
Precise temperature controls with dedicated buttons just make it so easy to set the temperature, and having quick switch between Celsius and Fahrenheit with pressing both buttons simultaneously is still just as handy.
Large 0.3g chamber which gives you all the flexibility to have a full session on your own or share around
Vibration Notifications - great feature which stops you forgetting you've turned your vape on and is at the correct temperature.
Incredibly durable - the same drop resistance, hard plastic body and rattle-free design
How to clean the Mighty Plus?
Although the Mighty Plus isn't difficult to clean, it still takes more time than most due to having to take apart so many individual parts:
Remove the cooling unit – Twist the cooling unit off the top of the Mighty Plus until you can pull it away from the body
Pull out mouth piece and remove seal ring. – Twist the mouth piece away from the cooling unit and make sure to take off the blue seal ring too.
Slide the cap lock back – Unlock the cap lock by sliding the Storz and Bickel logo towards the mouth piece until it unlocks, then removing it.
Separate the cooling unit from its housing – It should just pull off with some persuasion.
Remove seal rings & screen – I find using the multi-tool to hook under the seals and push the screen out works very well.
Remove lower screen – Again, the multi-tool is very handy here to press down along the circumference of the lower screen - which is attached to the body of the Mighty Plus. After disconnecting it from the groove, it should pop right out the heating element.
Clean with rubbing alcohol – Clean all parts and the chamber with rubbing alcohol, making sure all residue is removed. Replace the screen.
Storz and Bickel recommend cleaning the Mighty Plus once a week minimum.
The Warranty
Storz and Bickel have upped their warranty game this time with the Mighty Plus, giving a two-year warranty as default, and one extra year of warranty upon registration with them. As with each Storz and Bickel warranty, as long as the item is a genuine Storz and Bickel product, they cover any manufacturer defects within the warranty period. This means any parts you happen to wear out such as batteries and screens aren't included!
The Best Accessories for Mighty Plus?
One of the best things about the Mighty Plus is all the accessories you can get to make your experience even better. The Mighty Plus Carry Case makes it easier to transport and keep all your bits together, and with the Capsule Caddy you can store pre-filled dosing capsules for an even quicker session. The Filling Aid will make loading the chamber easier. If you're looking for more control over your vapor, then investing in the Wear and Tear Kit, drip pad and dosing capsule magazine are a must. With these items you can really dial in your vape to get that perfect vapor production and taste. 
Summary
Storz & Bickel's Mighty Plus definitely has the edge vs the original Mighty. Many of the desired upgrades have been met, making this vape one of the best portable vaporizing experiences on the market with almost zero fuss about it.
It just works. It does everything you could want from a portable vaporizer (Unless you really want an app for every device you own) and is as reliable as a vape can be whilst giving unparalleled vapour quality we expect from the original Mighty. The Mighty+ is worth the upgrade.
Get 5% OFF: 
  LOVE5  
+ Free Shipping
Mighty+ Customer Reviews
---